---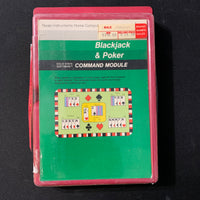 "Blackjack and Poker" for the Texas Instruments TI 99/4A computer
Cartridge game with fun, faithful renditions of casino style blackjack and stud poker.
Older style manual art, but in a newer-era red plastic tray with 'Blackjack and Poker' labels on the sides of the lid.
This item is for the Texas Instruments 99/4A home computer.

Product no. PHM 3033
Cartridge: red label, white housing





Cartridge is boxed with manual, and is the exact item as shown in the photo, with any cosmetic wear to packaging that you see.

Item has been tested and works.  Due to the nature and age of these vintage electronics, we can provide no warranty beyond "no DOA" for these items.

Shipping weight 1 lb.