---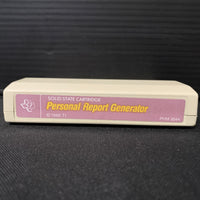 This is a listing for the following cartridge for the Texas Instruments TI 99/4A computer:
TITLE: Personal Report Generator
CAT. NO.: PHM 3044
LABEL COLOR: mauve
HOUSING COLOR: white
YEAR: 1980
Used in conjuction with the Personal Record Keeping cartridge, this rare module allows you to manipulate and print out the data you saved with that program.  Early data handling and storage from the dawn of home computing - fascinating stuff!
This listing is for the cartridge only, as shown - no box or manual included.  Cartridge has been tested on our own TI 99/4A system.


Shipping weight: 5 ounces.