---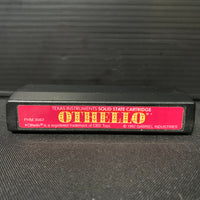 TEXAS INSTRUMENTS TI 99/4A "Othello" cartridge (TI and Gabriel Industries, 1982)

Condition: used, tested and working. Clean cartridge and label.
Cat. No.: PHM 3067

Includes: cartridge only, no box or manual.

Shipping weight: 5 oz.

Label variation: red label, black cartridge

The classic game of Go, rebranded as Othello in the modern age, and available for hours of strategic fun on your TI 99/4A!  Play against a human or the computer, set up customized matches on the board, and more!