---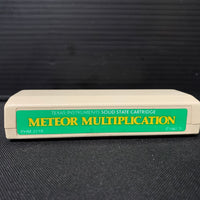 This is a listing for the following cartridge for the Texas Instruments TI 99/4A computer:
TITLE: Meteor Multiplication
CAT. NO.: PHM 3119
LABEL COLOR: green
HOUSING COLOR: white
YEAR: 1982
Basic math meets arcade action in this fun edu-tainment offering from TI!
Note: label is lightly peeling from cart (see photo).
This listing is for the cartridge only, as shown - no box or manual included.  Cartridge has been tested on our own TI 99/4A system.


Shipping weight: 5 ounces.