---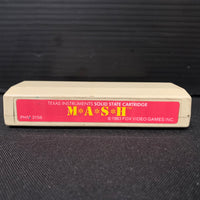 This is a listing for the following cartridge for the Texas Instruments TI 99/4A computer:
TITLE: M*A*S*H
CAT. NO.: PHM 3158
LABEL COLOR: red
HOUSING COLOR: white 
YEAR: 1983
Label shows some black marks and general wear.
Based on the beloved TV show, M*A*S*H has two exciting stages of play.  Fly a chopper to pick up wounded soldiers and bring them back to the M*A*S*H unit, then race against time to remove shrapnel from them in a stage similar to the game Operation.  An underrated TI game!
This listing is for the cartridge only, as shown - no box or manual included.  Cartridge has been tested on our own TI 99/4A system.


Shipping weight: 5 ounces.