---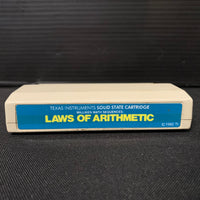 This is a listing for the following cartridge for the Texas Instruments TI 99/4A computer:
TITLE: Laws of Arithmetic
CAT. NO.: no cat. no. listed
LABEL COLOR: blue
HOUSING COLOR: white
YEAR: 1982
Part of the acclaimed Milliken series of math cartridges for the TI, skill drills to help students learn at their own pace and work their way up to more advanced topics.
This listing is for the cartridge only, as shown - no box or manual included.  Cartridge has been tested on our own TI 99/4A system.


Shipping weight: 5 ounces.