---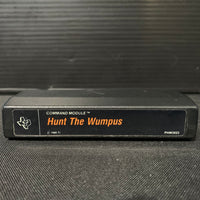 This is a listing for the following cartridge for the Texas Instruments TI 99/4A computer:
TITLE: Hunt the Wumpus
CAT. NO.: PHM 3023
LABEL COLOR: black
HOUSING COLOR: black
YEAR: 1980
One of the earliest computer games, played on old mainframes back in the early days, brought into the early 80s with color, sound and graphics on this beloved TI version!
This listing is for the cartridge only, as shown - no box or manual included.  Cartridge has been tested on our own TI 99/4A system.


Shipping weight: 5 ounces.