---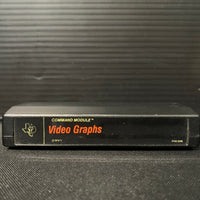 TEXAS INSTRUMENTS TI 99/4A "Video Graphs" cartridge

Condition: used, tested and working. Clean cartridge and label.
Cat. No.: PHM 3005

Includes: cartridge only, no box or manual.

Shipping weight: 5 oz.

Label variation: green label, beige cartridge.


One of the earliest TI software offerings, it allows you to plot graphs as well as do crude graphic design.  Lots of fun and potential for creativity.