---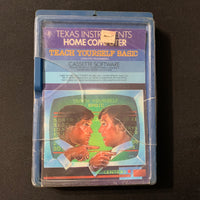 "Teach Yourself BASIC" for the Texas Instruments TI 99/4A computer
Cassette, boxed and complete with manual.
Programming lessons in the BASIC language, which run on the unexpanded TI console, and give you the fundamentals of programming on this awesome retro machine.
This is the newer style plastic box with updated manual art.  The box is heavily damaged but has the blue "Teach Yourself BASIC" logo sticker on the bottom of the top lid.
This item is for the Texas Instruments 99/4A home computer.

Product no. PHT 6007
Cassette: standard orange and white label





Cassette is boxed with manual, and is the exact item as shown in the photo, with any cosmetic wear to packaging that you see.

Item has been tested and works.  Due to the nature and age of these vintage electronics, we can provide no warranty beyond "no DOA" for these items.

Shipping weight: 1 lb.