---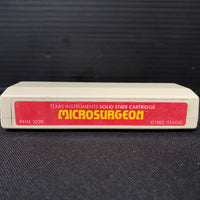 TEXAS INSTRUMENTS TI 99/4A "Microsurgeon" cartridge

Condition: used, tested and working. Clean cartridge and label.
Cat. No.: PHM 3220

Includes: cartridge only, no box or manual.

Shipping weight: 5 oz.

Label variation: red label, beige cartridge.


Developed by Imagic, this complex game takes you inside the human body, fighting off multiple infections and maladies as the patient goes critical!  Optional speech enhances the experience.