---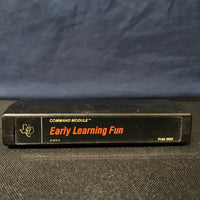 TEXAS INSTRUMENTS TI 99/4A "Early Learning Fun" cartridge

Condition: used, tested and working. Clean cartridge and label.
Cat. No.: PHM 3002

Includes: cartridge only, no box or manual.

Shipping weight: 5 oz. 

Label variation: black label, black cartridge.

One of TI's first software offerings, this cartridge presents simple, colorful games of counting, colors, shapes and sorting for very young children.