---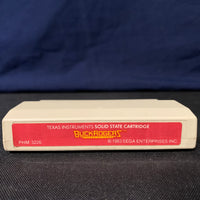 Sale
This is a listing for the following cartridge for the Texas Instruments TI 99/4A computer:
TITLE: Buck Rogers: Planet of Zoom
CAT. NO.: PHM 3226
LABEL COLOR: red
HOUSING COLOR: white
YEAR: 1983
Developed by Sega and licensed to Texas Instruments, this space action game contains several different levels, optional speech, and arcade action!
This listing is for the cartridge only, as shown - no box or manual included.  Cartridge has been tested on our own TI 99/4A system.


Shipping weight: 5 ounces.