---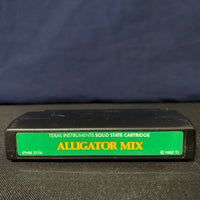 TEXAS INSTRUMENTS TI 99/4A "Alligator Mix" cartridge  

Condition: used, tested and working. Clean cartridge and label.
Cat no: PHM 3114

Includes: cartridge only, no box or manual.

Shipping weight: 5 oz.

Label variation: green label, black cartridge.

Math problems are zipping toward your alligator - but are the answers correct?  Math skills and lightning fast reflexes combine in this fun childrens' educational game.