---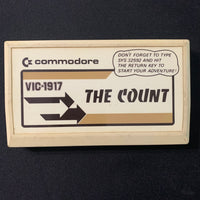 COMMODORE VIC 20 "The Count" cartridge

Condition: used, tested and working. 

Cat. No.: VIC-1917

Includes: cartridge only, no box or manual.

Shipping weight: 5 oz.


One of the Scott Adams series of text adventures, this game relies on vivid descriptions and clever wordplay to resolve the most maddening of puzzles.  You wake up in a coffin with no memory and must explore this strange new world!
Label variation: white, with "SYS 32592" text bubble in corner.