---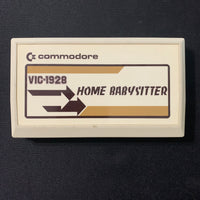 COMMODORE VIC 20 "Home Babysitter" Cartridge

Condition: used, tested and working
Cat. No.: VIC-1928

Includes: cartridge only, no box or manual.

Shipping weight: 5 oz.

Label variation: white

It was a bad idea in 1981 and is a bad idea now to let a Commodore Vic 20 babysit your children, but this collection of fun, simple exercises will definitely amuse a toddler for a while.