---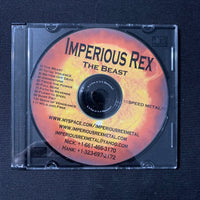 CD: Imperious Rex 'The Beast' (self-released demo, 2007)
Speed metal revivalists from the Bay Area from the mid-2000's.  Band-made demo CD-R in a slimline case with no inserts or liner notes.
TRACKS: The Beast, Total Violence, Better off Dead, Grindstone, Twice the Power, Full Bore, Path to Revenge, Flesh to Steel, Bare Fist, Book of Vengeance, Wild and Free.
CONDITION: used, in very good condition, comes in jewel case with NO inserts.
SHIPPING: weight is 5 ounces.